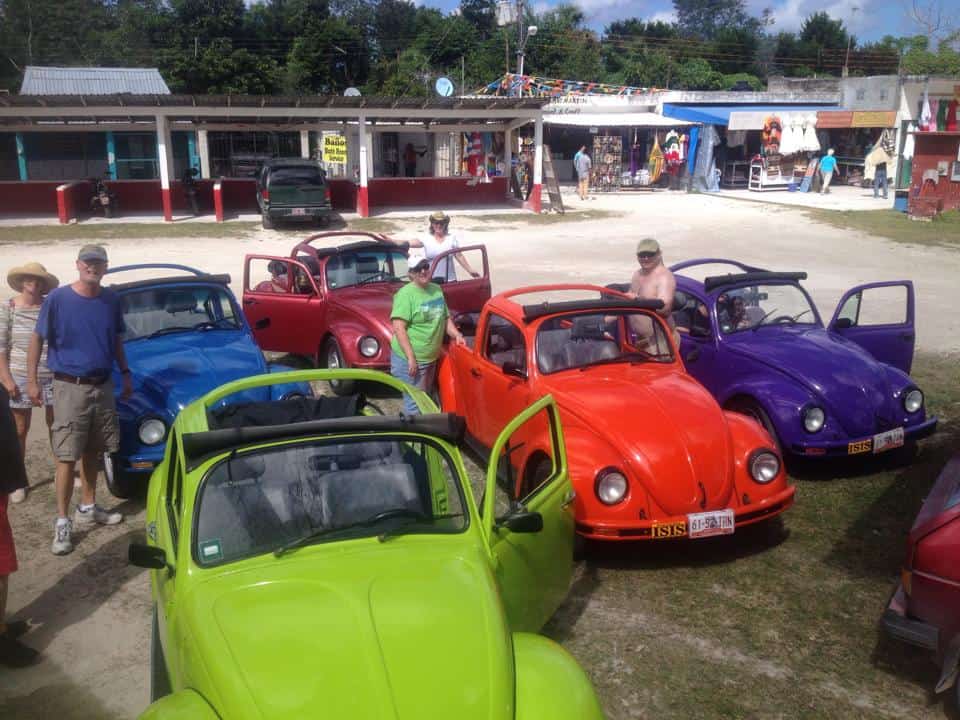 Omar's Cozumel VW Buggy Island Tour – A Cozumel Cruise Excursion Exclusive Tour!
There are many ways to tour the island of Cozumel, but none compare to the personalized and private experience of Omar's Cozumel VW Buggy Island Tour, offered by Island Marketing Ltd exclusively through their Cozumel Cruise Excursion site.
Whether you are new to Cozumel or a returning visitor, the Cozumel VW Buggy Island Tour will show you the very best of this tropical island paradise, both above and below the water.
A LITTLE HISTORY
In 2004, Cozumel Cruise Excursions lead the way in promoting the original Dune Buggy Tour in Cozumel, which was designed by "Tarzan" Dan Withington.  It was during this time we first met a young guide named Omar Abarca.  Omar has lived in Cozumel his entire life and it was clear he takes great pride sharing his island paradise with the many visitors who ventured out on tour with you.
Week in and week out positive reviews highlighted Omar's exceptional care and attention to the many clients arriving by cruise ships or staying in local hotels.  Most all reviews raved about his killer guacamole and Mexican salsa which he makes from scratch during the beach lunch stop.
In 2010,  Dan Withington decided to leave Cozumel to explore new business opportunities in Baja California and closed his Dune Buggy business.  It was at this time that Cozumel Cruise Excursions met with Omar to design their very own buggy tour of Cozumel.  The new tour would maintain all the positive aspects of the original dune buggy tour but would introduce a collection of colorful convertible VW Bugs.  The tour was an immediate success and continues to be a popular signature tour for Cozumel Cruise Excursions.
ABOUT THE TOUR
Omar's Cozumel VW Buggy tour offers a little something for everyone.  It is popular for all ages and ideal for families and private tour groups.
The first stop on this island tour allows guests the opportunity to enjoy the best shore snorkeling in the crystal clear waters of Cozumel's Dzul Ha Shallow Reef.  Snorkeling gear is provided along with instruction to those who may need some assistance.  The 45 min snorkeling tour from shore is guided by Omar who will point out the wide variety sea life that has made Cozumel a world class snorkeling and diving destination.
El Cedral is our next stop.  El Cedral is a small, quaint, Mayan village in the Center of Cozumel.  Here you will see a small ancient ruin, an old church and learn about the historical significance of this area as well as its role today as the host area for Cozumel's annual Carnival.
Next we drive your colorful VW Bug further south and then loop around to Cozumel's wild East Coast, famous for its unspoiled wind swept beaches and some incredible seaside views.   It is also home to some of the Caribbean's most unique seaside bars and restaurants.  From Coconuts to the Reggae Bar, to Mescalito's.  Definitely worth a quick stop and a fun photo.
It is along the East Coast that the VW Buggy tour makes its beach stop where you can take in the sand the sun and the sea while Omar prepares his famous lunch.  Here Omar makes his own special guacamole and Mexican salsa and serves it with chicken, rice, and tortillas.  The lunch and Omar's preparation of it is a highlight of the tour.  You can wash it down with a few cold beers, or the bottled water or sodas that is included throughout the tour.
Your last stop on the way back to the town of San Miguel is the Hacienda Antigua where you can enjoy a tequila tasting.   Here you can learn about and taste a variety of special tequilas and even have the opportunity to make a purchase to take home with you.
BOOK YOUR TOUR TODAY
The tour is very relaxed and you will never feel rushed. Omar is very flexible and will adjust the tour to meet the needs or requests of any group on any given day.
Omar's tour exemplifies what Cozumel Cruise Excursions is all about:  Quality, value, and private and personalized experiences that get you away from the masses on cruise sponsored tours.
Omar provides a fun, friendly and informative tour.  He has earned a reputation as one of Cozumel's finest tour guides.  If a visit to Cozumel is in your near future, be sure to look into this gem of a tour.
https://cozumelcruiseexcursions.com/cozumel/omars-cozumel-vw-island-buggy-tour/